It is always hard to pick a best day. One has to wait until the end of the trip. View the pictures. etc etc. And, I could change it, but here is a first cut:
The day is Tuesday, March 21. It is my third day riding. I head off about 10am in the direction of Monchique. My normal route out of Lagos if I am going in that direction, is the busy highway, rt 125. Before I even get to the first obstacle, a town called Odiaxere, where there is no road shoulder for the bike, I am passed by a fellow biker. He is going slowly enough that it is easy for me to catch him and I quickly assess that indeed I have the legs to stay with him.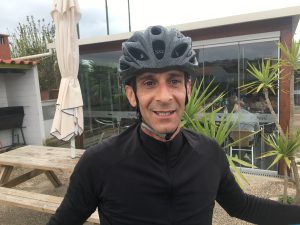 Turns out his name is Julius "like Julius Caesar". He is just at the end of a 60K ride. I just stay with him. He has a little English and we talk when the bike shoulder allows. He is on his way home to Montes De Alvor. I resist the urge to follow him all the way to his home. He leaves me at the municipl airport that does a big business in sky jumping.
I try to catch another old biker as I return to 125, but he turns off. I head back toward Logos on 125 and watch for a turn off to the right that will take me back on the road to the Monchique area. I find a suitable road and head in. Before too long I see signs for a winery! This is what the showroom looks like.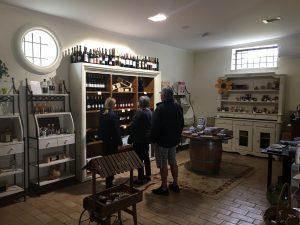 There is a British couple selecting bottles that the winery will ship home. I buy a bottle of port. Put it in my backpack and tell the proprietress that I will head up the road to a restaurant I ate at last year. She suggest that another one in the area is even better and I set off with that in mind. I could not resist putting in this roadside shot. They are not operational, maybe never but certainly not at this off season time.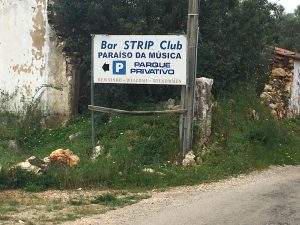 When I finally get to Solar Do Farelo, it turns out to be a restruant that I saw in 2016 but never found open. Here is the inside view.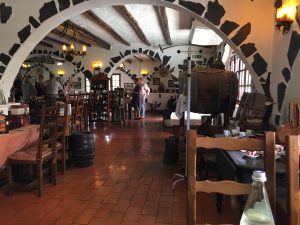 The main feature you can just notice are two LARGE wine barrels on the right. One has red wine, the other white and it is just help yourself to as much as you want, included in the dinner price. I ended up eating lunch here 3 times! It was always full with reservations but the owner would make room for the man on the bicycle. Heading back to Lagos, I passed a farm where the owner had build many platforms like this to attack the birds.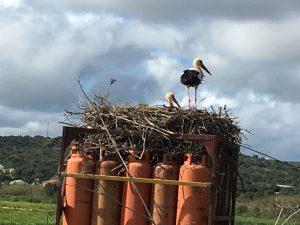 Once home, I always shower, wash out my biking cloths in the sink and hang them out to dry. Then it is off to my "home", Baffi Bar and the owner Valentina Bertino. I met her last year and spend as much time as I can in the establishment. This particular night, a British couple from my B&B, Trevor and Joanna, join me.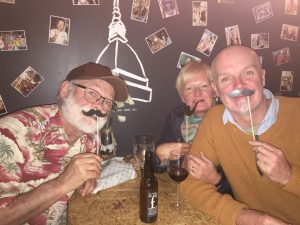 And this is Valentina!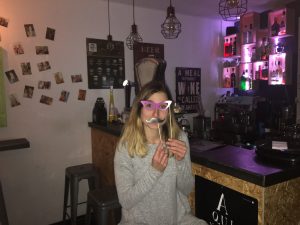 As you will notice, people are always holding up the mustaches and other accoutrements. It is marketing, branding. Just like the man in the Hawaiian shirt! Every time you see the picture, you know where it was taken. And no danger of mistaking the man with the white beard for another old timer.
Why did the above get selected as the best day? I guess it is all about the social. Riding with Julius. Discovering the winery and the great lunch stop. A fun night at Baffi where I have been able to bring my own company. I think we even ate there. The food, as you will see in other posts, is beyond wonderful. So, just the best in a long string of great days.