In 2016 and again in 2017, I went through Lisbon. In 2016 I used Azores Airline that routes you through Ponta Delgada and this year used Air Portugal. It is a long flight but I guess avoiding the stop is better. Lisbon airport can be a nightmare. The bus ride from the plane to the terminal is eternal. We spent 3 hours in line for passport check upon arrival. Departure is almost as bad as one has to spend hours in a large food court.
I am hooked on Lisbon. In 2016, I continued onto Lagos upon arrival but then read about Cerveteca beer bar in Lisbon and changed my return itinerary to allow for a final day in Lisbon. I enjoyed it so much that this year I scheduled a first and last night there.
The Boston flight leaves about 9pm and gets you in about 7am. Even after the 3 hour security nightmare, I pride myself on trying to take the metro. It is difficult. There are long lines at the airport metro gates. The machines do speak English if you know which button to push. It is always hard, even in English, to know if you are making the right choices. My credit card failed but Euro cash worked. I was able to wrestle my luggage onto a car, change trains and finally arrive at Rato station.
Lisbon metro has the longest escalators of any metro I have ever seen, maybe excepting London. I finally have decided that it is due to the wildly hilly Terrain of the city. Sometimes, you have a stop that is under a large hill, so getting out is amazing. I always have trouble with "which way to walk" when I first come out of any Metro. Google maps takes a few moments to adapt to a new location and tall buildings. I usually have to ask, start walking, and then use google maps to confirm that I am headed in the right direction. I was able to show a woman outside of Rato my phone and she directed me which direction to walk.
Walking in Lisbon is always a challenge as the side walks are very narrow and cobbled, making dragging the rolly suitcase especially challenging. I saw that a bus went in my direction and know that the metro day card covered such. But when I bus came, it was so crowded I was unwilling to take on the challenge of boarding and paying etc, so I just dragged. Google maps got me to the address of my Airbnb and I had been texting the owner with updates all along so Philipa met me at the door. She was wonderfully by helping me carry my expansive luggage up the 4 flights!
This is the "money shot" out the bedroom window, overlooking the parlimant building.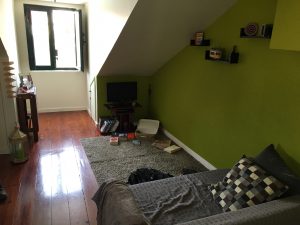 And the living room with TV.
As soon as I could get my self situated, I headed out for Cerveteca beer bar. Philipa had also direct me to Miradouro de São Pedro de Alcântara, which is a wonderful overlook. The bar didn't open until later but I headed up to the overlook and had "Pigs Cheeks" at TAPAS BAR 52. I was able to sit outside on a stool, talk to the people walking by and had a wonderful waitress who guided my eating and directed me to her favorite Sushi bar right near by. First I returned to the now open Cerveteca and started the arguous task of evaluating the 10 beers they had on tap.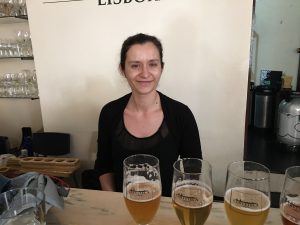 This is Lea. She not only helped with the drafts but joined me in a wild scheme to take 12 bottles onto Lagos. She came up with a box and packing tape and I provided a strap. Lea picked 6 beers and we wrapped up 2 each of them. The idea, as you will hear later, is to give me a "prop" in my Lagos bar. I pretend to be doing a beer tasting and get to talk to all the guests!
I tried to go back to the Sushi bar for dinner but it was not open yet so I had a chicken sandwich at a restaurant on the park next to Cerveteca, returned for a couple drafts and then off to bed.
My train for Lagos left at 10am. I got up early and took a cab to Gare do Oriente, checking first that the price would be about 10 euro. I need my passport to purchase the ticket, ate breakfast at the gar and had a good talk with a couple from Vermont before we boarded the train to our assigned seats.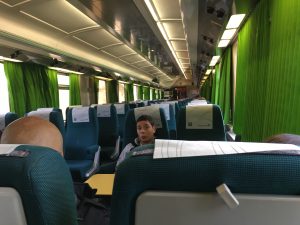 He was retired from the state counseling youths and had spent a lot of time in Panama on Bocas del Toro island. Well worth a trip!
The train takes about 4 hours with a change to the local after 3. I don't mind the ride. Very nice to see the land once we are running along the coast. I took a taxie to my B&B, Casinha Algarvia. The owner Joana was prepared for my arrival via texting and I mainly learned about things from the young assistant Marta.
Once settled, I headed out for my home away from home in Lagos, Baffi Bar and the owner, Valentina. I had a wonderful dinner of pasta carbonaro that her husband prepared and leaned that the name comes from making the dish black with pepper. I made a trip over to my second home, Lighthouse Bar but my hostess there from 2016, Tammy, had deserted Lagos for teaching English in Lisbon. Finally to bed and ready to start the riding part of the adventure. Enough of this eating and drinking.