Summary
A repeat of my 2016 and 2017 riding holiday.   March 19 – April 3.  Road close to 200 miles a week. Unlike the non-Portugal trips, I don't ride with a group but I do hang out at Baffi Bar and the experience is actually more social.  Reasonable weather and a new Guesthouse. And maybe I should mention that I left my iphone in the Boston airport and had to buy and configure a new one in Lisbon!
Details
Direct flights from Boston  leave at 9pm and get in at some ridiculous hour like 6am.  In 2016 I continued directly to Lagos, where I ride.  But I was so disappointed with the beer in Lagos that I cut my 2016 ride short by a day and went back to drink beer in Lisbon before flying home.  In 2017 and 18 I have even amended that routine to include staying a first day in Lisbon as well as a last day and taking a box of beers with me to Lagos.
In 2017 I rode a couple hours with a French couple, who I just met on the road.  This year I road twice for many hours with people I met.  First Ken to Sagras and then Beatriz and Jose from Madrid to Bispo as well as one hour with a Canadian? couple going inn to inn.  The miles just fly when you have someone to talk to.
A recurring theme of this trip was "talk to the men and see the woman".  This mystery takes place at my favorite Lagos ride destination, it is a little valley called Boca do Rio.  It is terrible to give away the whole punch line in this introduction but it certainly was a theme story.  I did it with both Ken and the Madrid couple as well as sending another couple to experience it on their own.  One rides down a steep hill to this idyllic little bridge over a stream.  I always stop here, experience how lucky I am and maybe get out the binoculars and watch birds.  I went down alone Saturday the 24th.  One then rides over to the actual beach where there are usually 5-10 caravans with people camping for free.  Last year a group from a German university were digging in the roman ruins and they were here again this year with wonderful open pits, showing walls etc.  The theme of the dig is uncovering a Garum operation.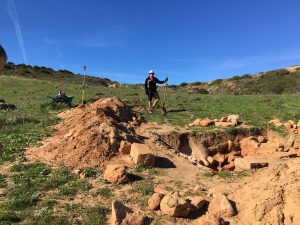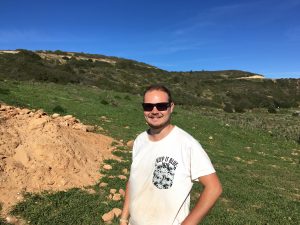 As the man at the dig tells it, the Romans did not have a lot of spices.  China was a long way off.  The Romans had salt, olive oil and Garum which is made from adding the above two ingrediants to putrid fish for too long.  The first part of the riddle, talk to the man, means go over and these archaeologists will show you what they are up to.  Monday, I then went down and stood on the water side of a old ruin that has only a few crumbling walls standing and saw this: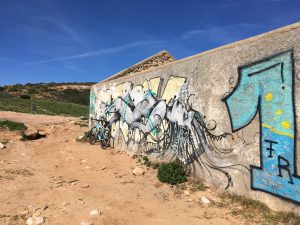 See the woman!
I'm starting to add more detail about the trip. The links below should take you to such